It all started on December 14, 2006 on a little site called Eharmony. A lonely college student who had just reached the minimum age requirements and was done with her finals and an EMT who had quit Eharmony for awhile because he had been working two jobs, but decided to come back because he had quit one of them, were each others' first matches. And after less than 24 hours of talking, the only matches that mattered. After a day or two, we started talking on the phone . We really wanted to meet in person, but his work schedule and various Christmas-y events got in the way until December 30, 2006, when we met at Applebees.
I had only told him once of my passion for Applebees, but he remembered it and I was quite touched when he offered to take me there on our first date. After a nice dinner, we headed over to the movie theater to see Night at the Museum. I remember enjoying the movie very much, but what stands out the most in my memory is how much of a dork I was, lol. My mom and grandmother had warned me about crossing my arms when I sit down, afraid I'd give him the wrong message because of it. So throughout the whole movie, I made sure my hand was "available" - not crossed or curled up, just laying there on my leg or the arm of the chair. It was uncomfortable and awkward, but I hoped it seemed natural enough of a position. After the movie went on and on for a while, I had given up hope, but kept my hand there just in case . . . Then about halfway through the movie, when I was totally caught up in the action, he slipped his hand into mine, and I about jumped out of my skin. It's really a wonder that I didn't scream out, I was so frightened. I could *hear* my heart pounding, but he was just smiling at me and didn't even seem to notice.
MUCH later (like, after we got married, probably), I admitted this to him and told him how upset I had been that he didn't want to hold my hand and how shocked I was that he didn't notice how much he startled me when he finally did. He laughed and said "I noticed you were sitting funny and were holding your hand right there like that, so I watched you to see if that's what you were really doing. I was really amused that were sitting like that and just watched you forever! And it was also funny when you jumped. ;)" So he knew all along. I guess it's better he knew what he was getting into, lol.
The evening ended with a sweet hug goodbye and over the course of the next 6 months, we grew closer and spent more and more time together. On June 19, 2007 at Epcot, everything changed . . .
And lots of prewedding craziness ensued, all preparing for the big day on August 9, 2008.
Lots of bridesmaid dresses to try on. Some were pretty . . .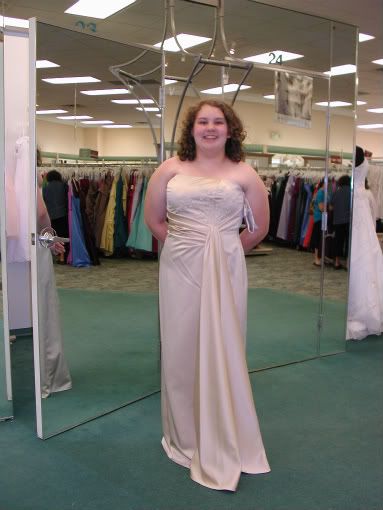 Others . . . not so much . . .
Yes, those even ugly dresses had
tails
. . .
Some dresses caused snark . . .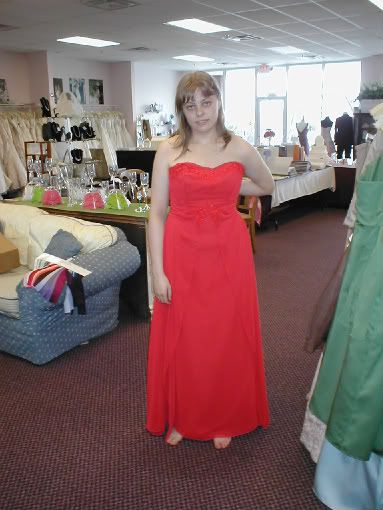 Some were for the Stepford wife in all of us . . .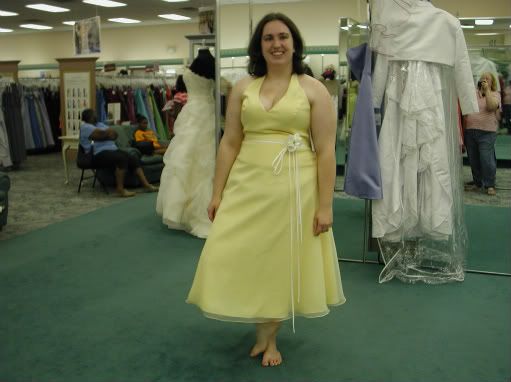 Some fulfilled my lifelong dream of being Ariel . . .
And some were probably more appropriate for the wedding night . . . (I mean, if the guy is
REALLY
distracted by the
EXCESSIVE CLEAVAGE
hanging out there and can ignore the fact that it's downright
UGLY
. . . )
Of course, you can't forget the flower girl . . .
Who was pretty much adorable in every dress she tried on . . .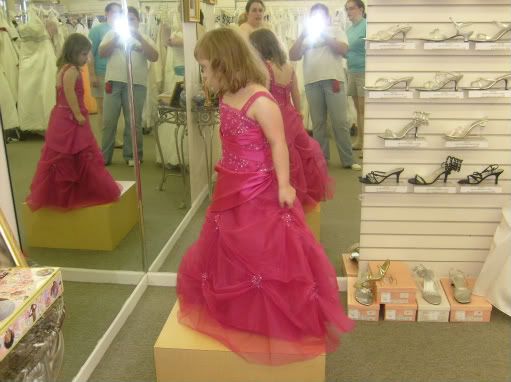 This was one of my favorites . . .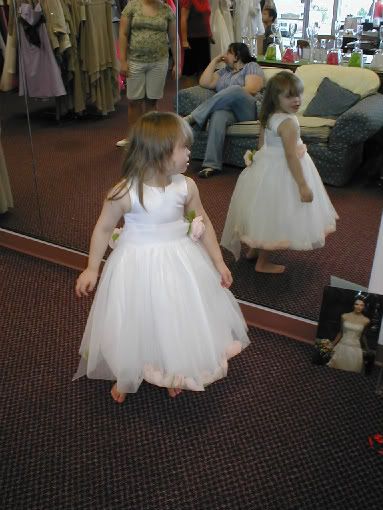 Natalie even used Kim's Mickey ears princess hat to imitate what she saw going on during dress shopping.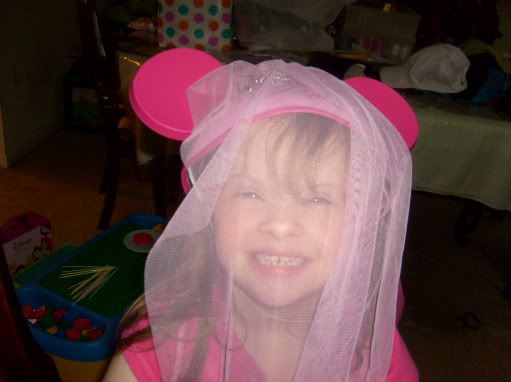 Online wedding checklists - be sure check out the ad banner on one of the biggest WEDDING websites out there, lol.
And of course you can't forget the wedding dress. Some dresses my Grandmother thought were more suited for a "harlot" or "prostitute" (yes, she said that outloud in the store) . . .
Dresses that were far too small . . .
Dresses that were far too big . . .
Dresses that almost were chosen . . .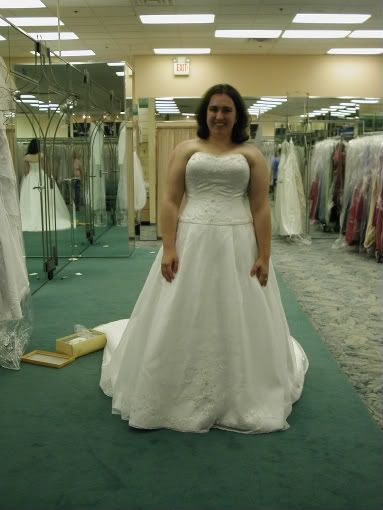 Dresses that were almost chosen, part 2 . . . .
And, of course, dresses with . . . wings? . . .
It was tough, but in the end we survived. Tomorrow, August 9 will be one year from the wedding. Wedding recap and photos to come tomorrow.
I'm not good at expressing feelings, but I'm . . . :

satisfied